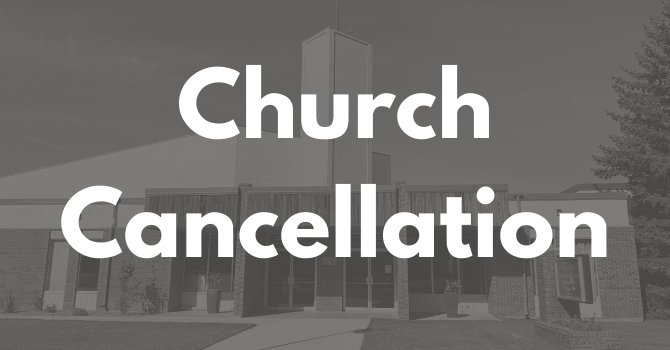 March 20, 2020 Update
Hello Church family!
Many of you are starting to feel the effects of 'cabin fever' during this unusual time of isolation. We want to encourage you to continue to exercise caution in your social interactions in order to limit the spread of this dangerous virus. Thanks for looking out for each other!
If you are wondering what church will look like for the next few weeks, here's our plan thus far:
1 – An abbreviated version of our regular worship service will be available on our website every Sunday morning after 11 am. We are currently planning to post a link to a YouTube worship playlist, and a video which will contain Scripture and prayers, a few announcements, and a sermon. We decided at this time not to impose on our worship team to plan and execute a regular worship package. If you are scheduled for special music and would still like to contribute this to the service, please let us know by the Tuesday of the week you are scheduled so we can plan to fit it in.
2 – We want to encourage you to exercise caution creativity in your ministry to each other. Many of you are shut-in at this time; some of you are still planning regular excursions. We want to encourage you, if you need groceries or something else and you would prefer to not be out in public, please contact the church. Also, if you are willing to act as a courier for another church member, please contact the church. That way we can connect you and we can serve each other in love.
3 – Pastor Nick is planning a vlog-style video that will also be uploaded mid-week. Nick is currently talking with other pastors in Swift Current to see if we can do a multi-pastor, multi-church podcast of some sort that will connect us to our broader community. We may even be able to upload something like that to Swift Current Online to serve the broader community. Plans for this are still being made, so we appreciate your patience in this matter.
4 – It's looking more and more like Easter may be unusual this year. Pastor Nick encourages you to go online to rightnowmedia.com and search for Kyle Idleman's "The Easter Experience." These are ½ hour productions that combine drama and sermon in a way that will challenge and encourage you as you prepare your heart for Easter celebrations. If you do not currently have access to RightNow Media, please contact the church so we can get you set up.
At various points in church history, people deliberately chose to isolate themselves in order to draw closer to God and deeper in their faith. It is our prayer that this time of limited connection to other people will be a time when you connect more deeply to your Saviour. If you need someone to talk with, to encourage you, or to pray with you, please feel free to contact Pastor Nick or the Church Office.
And remember to encourage one another! 1 Thessalonians 5:11 "Therefore encourage one another and build each other up, just as in fact you are doing."Grace and Peace in Jesus,
Pastor Nick
March 18, 2020 Update
Dear Bridgeway Community Church family,
As you are likely aware, we are in the midst of a global pandemic. The situation regarding the COVID-19 virus is volatile and constantly changing, and all agencies are scrambling to respond accordingly.
Last night, Tuesday, March 17, the Ministry Team met to pray, seek God's guidance, and offer our church family a direction to follow in these uncertain times. Here are our recommendations:
1) Effective immediately, and until further notice, all Sunday worship gatherings are canceled. We will be looking at creative solutions for worship during isolation. Please check in with our website for further updates. We will get them on the website as soon as possible.
2) Effective immediately, and until further notice, all public gatherings of Bridgeway Church are suspended. This includes, but is not limited to, all Youth gatherings, all Life Groups, all Quilting and Sewing groups, all Mops events, all Men's and Ladies' events, all rentals and all rental bookings. We will be assessing the situation and prayerfully planning when and what a return to normal gatherings will look like. We appreciate your prayers and your cooperation in this matter.
3) Effective immediately, and until further notice, the church building at 510 - 13th Ave NE will be in lockdown. If you need to access the building, please phone ahead. Patricia will continue to remain available by phone during normal office hours. Pastor Nick will be on call for emergencies. If you need pastoral care, please phone his cell at (306) 612-4379. The purpose of this is to limit interactions yet still remain available to help people who need it most, in order to keep our staff as safe as possible. Thank you for your attention to this matter.
The question that surfaces in many of our minds is, "How can we be the church in a time of isolation?"Here are some suggestions for you:
1. Continue to participate in church with your prayers. We will continue to send out our prayer emails. We urge you to make use of these important tools. Scripture reminds us that, "You don't have because you don't ask" (James 4:2). Let's be the church that asks. Let's be faithful in our prayers.
2. Continue to participate in church with your care. Many of you are already stepping up your phone game. Let's use our technologies - telephones, text messages, Facebook Messenger etc. - to remain in contact with each other. Every day, phone one person from church and one person who doesn't go to our church, to encourage them and to pray for them. As well, the church will be organizing care for the people in our congregation who cannot get out. If you have a need, let the church know about it. If you can help another person with a need, let the church know about it. We will work hard at connecting you to each other safely during this time of social distancing.
3. Continue to participate in church with your giving. So many of our financial commitments remain in place - building maintenance, salaries, missionary support. We will be looking at increasing giving options for our church in the next while; in the meantime, please continue to look for ways to contribute to our common good. If you need to drop off a check, please phone ahead. If you would like someone to come get your gift, please phone the office.
As your pastor, let me remind you of this truth; the church is more than just our gatherings. Church is never canceled; we are the church 24/7/365. It is just our gatherings that are suspended. We simply need to listen to the Holy Spirit's promptings and use good, wise discernment in the next few months in order to "love in the time of cholera."
Charles Spurgeon was a pastor who ministered in London during the cholera outbreak of 1854. Here are his words on the matter, "Fear to die? Thank God I do not. The cholera may come again next summer - pray it may not. But if it does, it matters not to me. I will toil and visit the sick by night and by day until I drop. And if it takes me, sudden death is sudden glory." May our faith comfort us, sustain us, encourage us, embolden us. Jesus is King.
Grace and Peace in Jesus,
Nick Kimpinski, on behalf of the Ministry Team